Wood wall sheathing consists of 7/16 OSB board applied to wall girts or vertical stud walls. This option is needed when steel is not used and an alternative siding option is being applied.  Wall wood sheathing makes for a much more ridged structure.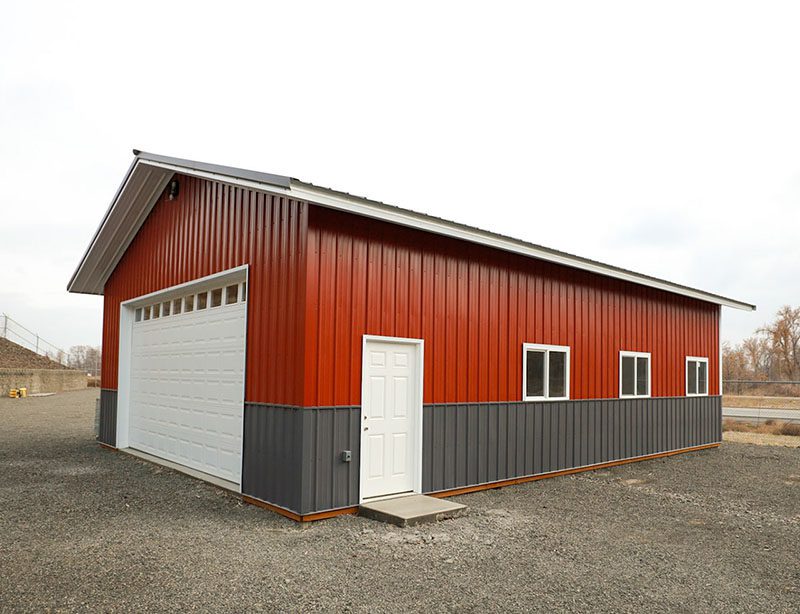 Our pole building garages and shops are ideal for all-purpose residential storage.
Customized framing options can be incorporated into the design to suit the needs for interior finishes depending on the end-use of your new building.
Insulated walls, framed ceilings, interior rooms, plumbing, and electrical packages can be designed to meet individual needs.
See our many custom exterior options available to give that special aesthetic appeal. Steel siding and roofing are only one option.
If matching your home is important, we can do that too! A new garage or shop building is an important investment that will enhance and add value to your property.
Whom you choose to design and build this investment shouldn't be taken lightly.
With thousands of completed residential projects, our experience is second to none. Be aware that most builders in our industry have only a few years of this type of experience.
We are learning new design techniques with every project and applying this knowledge to all of our projects.
Family-owned and operated.
Steel Structures of America has been in operation since 1995. The company specializes in post-frame steel buildings. Designed for residential, agricultural, and commercial uses, each of the company's structures is individually engineered. 
Service and quality are two things that stand out with Steel Structures of America.
Each manager that works for Steel Structures of America has been with the company for at least a decade. Their Quality Control Manager oversees 30 professional erecting crews with leaders that have an average of 15 years of experience.
Steel Structures of America offers three types of steel buildings: Residential, Commercial, and Agricultural.
Each type features the company's quality materials and engineering.
The residential buildings offered by Steel Structures of America can be used for storage, or they can include living quarters for a unique home.
There are more than a dozen plans available for residential buildings.
From two-story structures to classic garages, there are plenty of options available for residential use.
The commercial pole buildings from Steel Structures of America can be used in a wide range of applications, from offices to convenience stores, strip malls, self-storage places, and auto dealerships.
Cost-effective and durable
Steel Structures of America's steel buildings are in high demand among businesses. The quick construction time means that commercial operations can be up and running much faster than with conventional buildings.
The company's flexible design options make their buildings ideal for agricultural use because they can clear-span without interior posts. Custom farm buildings can be created as well as horse barns and other agricultural structures.
Steel Structures of America specializes in arena buildings and horse barns.
A variety of stall and tack room configurations can also be chosen, with dividers, doors, and galvanized stalls.
Three of the company's senior sales managers actually own and manage horse barns, so they have specialized experience in this department.
From million-dollar horse barns to small-budget farm buildings
Steel Structures of America can accommodate all agricultural needs and budgets.
Steel Structures of America offers a wide range of building options for buyers to choose from, including roof, lean-tos, siding, framing, insulation and even garage doors.
Roofing Options
There are four main roofing options available:
Monitor: Ideal for two-story structures or living quarters

Gable: Commonly used in garages and shops

Gambrel: Optimizes second-story space

Custom: A personalized roof option that meets your project's needs
Lean-Tos and Sheds
Lean-tos add additional covered outdoor space, while sheds offer fully-enclosed storage. Both attach to the main structure for convenience.
Lean-tos: Can be used to store RVs, cars, boats, firewood, farm equipment, dog kennels and more.

Sheds: Can be used as storage, living quarters, workshops, hobby rooms or farm equipment storage.
Siding, Decorative and Roofing Upgrades
Buyers can also choose from a range of upgrades for their building's siding, roofing and decorative elements.
Available upgrades include:
Metal cupola and weathervanes

2′ roof overhangs

Wainscott wall panels

Loc-rib architectural roof panels (26- gauge)

Rolled rib steel wall and roof panel (29-gauge)

Fiber cement siding

Vinyl siding

Wood siding

Composition roofing (asphalt shingles)
Framing and Loft Floors
A number of loft floors and framing options are available with Steel Structures of America, including:
Vertical studs

Standard wall girts

Framed ceiling

Commercial wall girts

Wood roof decking

Bottom loaded trusses

Loft floor

Wood wall sheathing

Interior walls
Insulation
The building's insulation plays a major role in its energy efficiency. The company offers a number of options in this department, including:
R-19 batt wall insulation: Used in stud walls and walls with commercial girts

5″ vinyl backed fiberglass: Used in most post framed buildings

R-19 and R-30 roofing insulation: Used between roof purlins

R-38 blown-in roofing insulation: Commonly used for ceilings
Steel Structures of America offers a wide range of different buildings for just about any use. From custom options to pre-made kits, the company can meet the needs of most buyers with ease.